10 things that should go through your head when approaching a new break: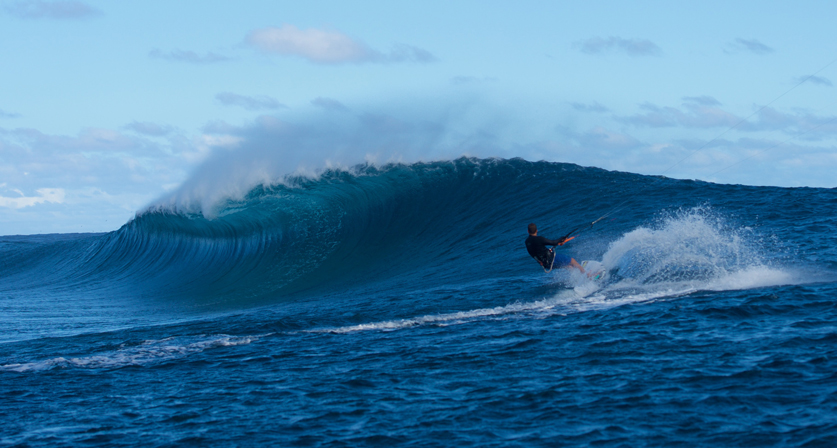 The 10 things:
1) "WHEN IN DOUBT, DON'T GO OUT!" The number one factor that will influence any decision that you will make regarding safety is to know yourself. Know your skill level, know what you are comfortable with, and most of all know your limitations and be smart enough to make the sensible decision not go out and look elsewhere.
2) Local knowledge rules! If you show up to a new spot and there are local kiters (even better lifeguards) already out, ask questions. Why go through the painful learning experiences of new spots like learning where the reefs are with your fins, or even worse how strong the rip tides and currents are while you drag a popped kite in through the channel. If you feel embarrassed about asking questions, get over it! It shows experience that you know better to ask than just head out blind. I'd imagine it's a lot more embarrassing getting rescued by a local, or even the coast guard. Just imagine the taunting you'll get in the local pub when your mates constantly replay the recording of the newscast of your ride in the "little bucket" under the helicopter.
3) Wind direction/quality: Sure the wave looks good, but how's the wind? Study the weather conditions and make sure that you shouldn't just be paddling out for a regular paddle surf instead of pumping up your kite.
4) Currents: How fast are they? Where are they going, and do you really want to go where they are going? Asides from the waves themselves, currents can be one of the most dangerous factors in the ocean. The can be subtle, but strong enough that they can drag you down the coast, or even worse, out to sea without you even noticing that you are moving. Knowing how to recognize currents, and knowing how to get out of them could save your life.
5) Tide: Is it rising or dropping? "I'm sure there's an 'app' for that." Tide charts… get one! Know what the tides are doing. A changing tide can change everything!
6) Where are the channels, are there any? Both reef and sandbar shore breaks can offer up a channel area. They are not necessary, but sure can make your life easier with a nice smooth, open area that makes getting back out to the take off zone a lot easier on your body. They are also a great 'safe zone' if something goes wrong.
7) Reefs: Do they pose a danger? This factor correlates to the previous observation points. Do the tides go low enough that the reefs now become an exposed obstacle? Several areas of the world have a severe enough tide change that areas that are cover with water could be exposed over a matter of a few hours. What you easily glided over on your way out is now exposed coral keeping you from getting all the way back to the beach. Where there any channels? If so, do they still exist? Has the lowing tide exposed the reef enough that it has increased the strength of the current in these channels so much that you won't be able to use them to get in? If you think you might need to walk on the reef, reef booties are a great idea. Remember, the ocean is a constantly changing entity, keep an eye on what its doing. Being aware of your changing surroundings could save your life.
8) Trust your equipment: If your facing a session that if things go wrong they are going to go "really wrong", perhaps its best that you fix that slow bladder leak, or replace that worn chicken loop and that line with a knot in it.
9) Know your escape route: Even if you can't emulate all of James Bonds charisma and charm, you should at least adopt one of his tactics. If (and when), everything goes wrong, using all the previous factors that you've assessed, have a plan of retreat on how you are going to make sure that you will make it back to shore under your own power. "It's always good until it isn't."
10) Is the juice worth the squeeze? Now that you have everything assessed, you know the conditions, you feel its safe to go out you and have your back up plans in case everything goes wrong; imagine everything going wrong and are the rewards of the potential session really worth the possible consequences. Remember, "If in doubt, don't go out!"
For more information on ocean safety… Check out the Hawaii Lifeguard Association's recommendations on what to do when things do go wrong.
Want to take this Tutorial to go? Download the E-book by signing up to the Reo Stevens Coaching mailing list to take this an many more tutorials with you to the beach on your mobile device! You'll also stay up to date on new tutorials and travel trips offered by Reo Stevens Coaching.