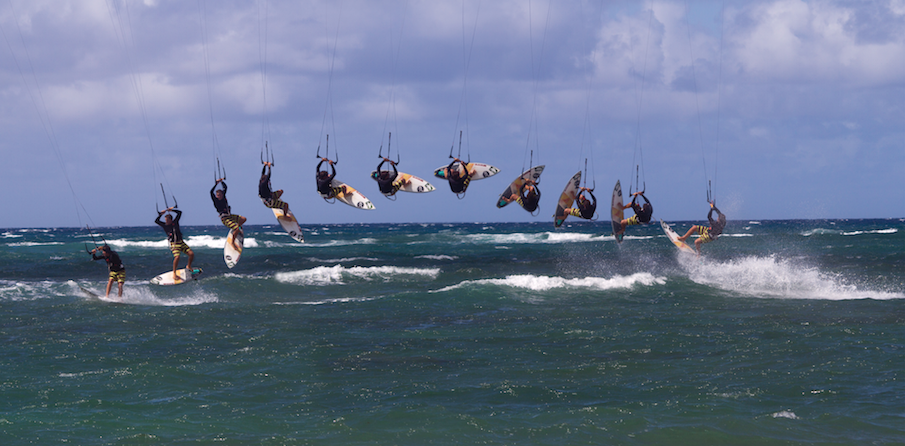 The kitesurfing strapless back roll has to be one of the most satisfying moves to stick when you first start learning to kiteboard. Trying them strapless is a great way to bring back that same feeling of stoked with an old favorite trick.
STEPS:
1) You approach this trick as you would with a normal back loop and is lead with your shoulder and opening of your chest. Before you leave the water start to turn the board into the wind so at the point of leaving the water the bottom of your board is already facing into the wind.
2) As you leave the water, look over your shoulder and begin the rotation. Bring the board up over you while keeping the bottom of the board facing the wind. Use the wind blowing the bottom of the board as well as gravity to keep it on your feet. Be sure to keep your knees bent as much as possible through the rotation as the amount your legs can extend is your "forgiveness zone" to keep the board connected to your feet as it starts to fall away from you when landing.
3) Continue looking over your shoulder until spotting your landing. When you spot your landing, start to straighten you legs while using your ankles to point your toes to keep the bottom of the board into the wind.
4) Land as you would a normal back roll: knees slightly bent and head looking forward.
Want to take this Tutorial to go? Download the E-book by signing up to the Reo Stevens Coaching mailing list to take this an many more tutorials with you to the beach on your mobile device! You'll also stay up to date on new tutorials and travel trips offered by Reo Stevens Coaching.
Still can't get it right? Contact Reo to book a Private Lesson to have him help you nail that trick!