ALOHA! Welcome to Reo Stevens' Kitesurfing Wave Camp in Hawaii!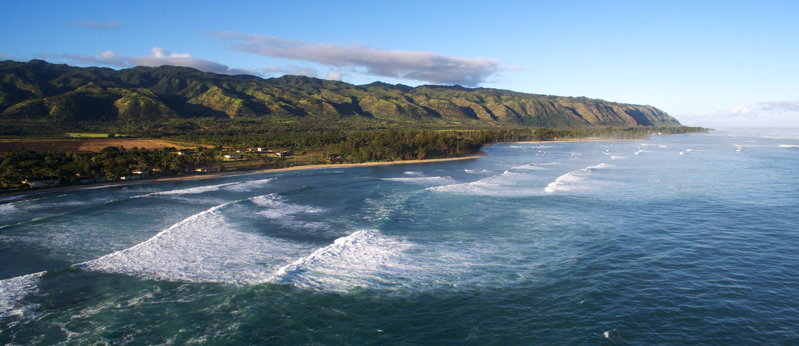 Looking for a kitesurfing holiday? The North Shore is known as the surfing capital of the world, but it is also home to the strong reliable "trade winds" that make their presence know between the months of March-October. Although our winter months bring Hawaii's most consistent surf, wind is extremely unreliable. That is why we timed our camp in the cross over month of April for best chance of wind AND waves.
The North Shore Oahu Coaching Camps focus is about waves and wave riding. It doesn't matter if you prefer to ride strapped or strapless, hooked or unhooked all styles of riding will be covered. The camp can also focus on "strapless freestyle" if that is desired. All skill levels are welcome as long as you are proficient at staying upwind.
As far as the location… There is no place better to stay in Hawaii than on the beach! We have accommodations on the beach in front of the kite spot. Wake up in the morning for a dawn patrol surf, come in for breakfast and sip on a cup of coffee while you wait for the trade winds to fill in. After a full day on the water, sit back and watch the sunset with an ice-cold beverage in hand and wait to wake up and do it all again the next day.
The North Shore of Oahu, is one of our Coaching Camps where improving your riding is our focus through a set schedule with daily video reviews and feedback. If you're looking for something little more relaxed and focused more on the adventure and what the destination has to offer, Check out one of our "Adventure Clinics".
Available dates:
April 2 (Sun) – April 8 (Sat), 2017 – 6 nights/ 5 Full days of Coaching
Check in: 3 p.m. April 2 (official start April 3 @ 10:30am)
Check out: By 10 a.m. April 8
April 9 (Sun) – April 15 (Sat), 2017 – 6 nights/ 5 Full days of Coaching
*** FULL ***
Check in: 3 p.m. April 9 (official start April 10 @ 10:30am)
Check out: By 10 a.m. April 15

Pricing:
– Shared accommodation – (2 per room) – $2,595
– Private accommodation – (private room with 1 queen sized bed) – $3,095
– Non-kiters/partners (limited # of spots) – (no coaching) – $2095
A 25% deposit is required to secure you booking. Final payment due 90 days before departure.
**All pricing is in USD**
Accommodations are shared rooms in one large house.
What's Included?
– 5 full days of personalized coaching with Reo (max 8 students)
– 6 nights accommodation in shared rooms.
– 3 meals daily. We cater for a range of dietary requirements; just let us know.
– Photography and video (all your photos and video will be provided on USB at the end of week)
** Flights to and from HNL are not included**
Getting there:
The location is roughly a 45minute drive from Honolulu International Airport (HNL). Specific directions will be given upon inquiry.
No wind activities:
Although we picked one of the best times of year for both wind AND waves, Mother Nature can never be completely relied on. But the good news is, you are in HAWAII!! Whether it's surfing, SUPing, snorkeling out front of the house or hiking close by, there is no shortage of things to do here! But if that's not enough, there will also be a list of other activities near by from third party businesses such as Skydiving, glider rides and Swimming with Sharks for an additional cost.
** No refunds for bad weather **
Meals:
Three (3) meals a day served buffet style. Please notify us if you have any dietary requirements beforehand.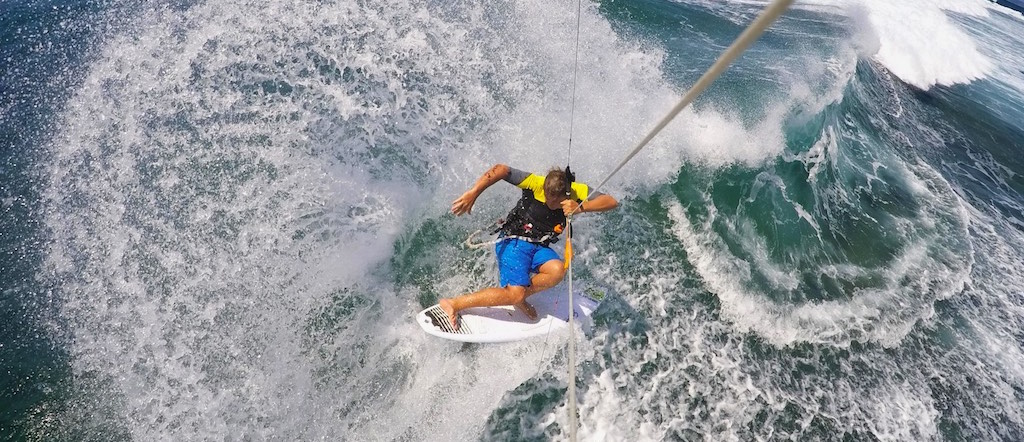 FAQs:
Do I need travel insurance?
Recommended if you are a citizen outside of the USA. You will need a plan that covers medical emergencies and transport, trip cancellation, travel changes, loss of property and luggage. We recommend a comprehensive cover to ensure you're protected.
Maximum number of students per week?
8
Internet?
Yes, wireless internet is available. However, this should be a vacation. We strongly encourage leaving your laptop at home and your phone in your room. You are in Hawaii, enjoy it as much as possible!
Water temperature?
The water temperature in Hawaii range from 77 °F (25 °C) to a maximum of
83 °F (28°C)
Do you need a wetsuit?
Not typically, but if you get cold easily we recommend bringing a spring suit. Normally a 1-2mm top will keep you warm for the early morning surfs.
Strength of wind?
It can be any strength, but normally about 15-20knots and we mostly ride on 8m – 12m kites depending on rider's weight.
Do I need kitesurfing experience?
Yes. This camp is not suitable for beginners or non-kiters. We require you to be able to confidently stay upwind
Can you ride a twin tip?
You can, but conditions are not ideal and we will be focusing on wave riding so we recommend a surfboard.
What are the waves like?
The waves vary depending on swell size and direction and tide, but mostly it is a fun, playful right-hander. On a good day you can even be lucky enough to find a barrel or two!
What should I pack?
Boardshorts, Bikinis, Beach Towels and Sunscreen! As well as anything else that you think you would like for a week on the beach. The evenings can get a little chilly on the beach with the trade winds, but a simple sweatshirt should keep you warm.
What kind of equipment will be supplied?
You will be required to bring your own equipment.
Can you ask for vegetarian meals when booking?
Yes, we can cater to a range of dietary restrictions, just ask.
Do I need booties?
It's a good idea if you want to surf or kite when it's shallow on the reef.
Terms and Conditions:
Conditions of Occupancy:
Rooms must not be used for any unlawful purpose
The Guest will be liable for payment of any charges incurred by any Guest together with all replacements and necessary costs for any damage or loss to the apartment and its contents caused by any Guest
The Guest authorizes the manager to charge any credit card for any loss, damage or monetary contribution for which any Guest is liable under this document or otherwise
Neither accommodation provider, Reo, his staff or support crew is liable for any damage or loss of property, which a Guest may sustain while on the complex.
Booking Terms:
– Additional Requirements are on a 'request only' basis and are not guaranteed.
– We require the payment of a non-refundable deposit of 25% of total tariff to confirm a booking.
– Payment can be made by PayPal or bank transfer.
– The balance payable 120 days prior to departure. No refund for early departures.
– Early check-in and late departure is available pending availability.
– Only the number of guests paid for can stay as part of the group.
Cancellation Policy:
– Cancellations should be made in writing via email to reo.stevens@gmail.com
– Cancellations including original deposit are non-transferable and non-refundable. However we do our best to fill spots and reimburse the cancelled guest the full amount less any bank charges.
– Cancellations closer to departure incur various penalties: 60+ Days Prior to Departure – 1st deposit non-refundable, non transferable / 31-60 Days Prior to Departure – 50% penalty (total cost of trip) / 00-30 Days Prior to Departure – 100% penalty (no refund)
We strongly recommend that you take out travel insurance to cover unforeseen circumstances including travel cancellation due to inclement weather, natural disaster and personal circumstances, as we do not accept any liability for any costs you may incur.
** Camp has a minimum student requirement of 6 to guarantee trip. If the minimum number is not met, the camp will be canceled and %100 of your deposit will be refunded. Confirmation of Camp will be made no later than 45days before start day **
Want to focus more on the trip and feel a bit more relaxed on the coaching. Check out our Adventure Clinics