"Kitesurfing is not a replacement for surfing, simply an extension of it; the conditions for one are only ideal when they are not for the other. By using the kite as a means to harness one of surfing's imperfections, surfers can increase their water time and maximize their wave count." – Reo Stevens

In the video below Reo gives us an in depth look into making the most out of marginal conditions.
Reo was born and raised on the North Shore of Oahu, Hawaii. Growing up in such a surf mecca, it was only natural that he started surfing at a young age. At age 8, he was already getting tired of the crowded surf breaks of the North Shore and changed directions by following the steps of his parents to escape the crowd and picked up his first windsurfer. This opened the door for Reo into the windsports world. In 1999, Reo 13 at the time, caught his first glimpse of the brand new sport of kiteboarding.
"I was swimming for my gear after I fell on a wave when a kitesurfer jumped 20ft over my head. I was amazed; I had to do it. The jumping aspect of kiteboarding is what got me into it. Kiteboarding was something to do to make the summers go by faster, I figured no waves, might as well jump" said Reo.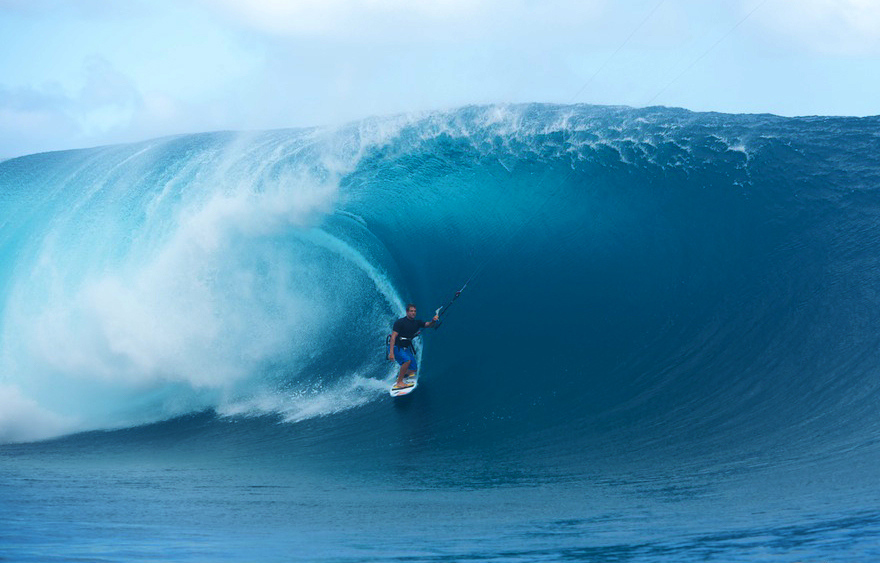 The claim of only kiteboarding when the surf was 3ft or less and windsurfing or surfing when it got bigger started to disappear as the years went by and the equipment progressed. The aspect of wave riding with a kite became a serious reality. "It went from getting yanked by the kite down the line with no turns, to full top to bottom rail carves." Reo explained "I found something that can add to my repertoire to keep me riding waves no matter what the conditions are.
Today Reo has taken his years of kite flying experience and his wind and wave knowledge to become one of the most accomplished waveriders in the industry and has begun sharing his knowledge by offering a variety of coaching classes worldwide.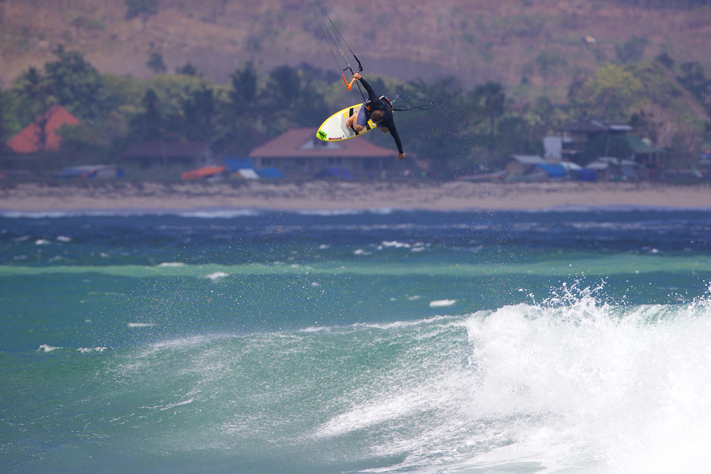 Quotes:
We first met a bubbly and infectiously enthusiastic teenage Reo Stevens when we first shipped our editorial team en masses to the North Shore of Oahu years ago. He was a stand out even then and took it upon himself to look after us during our stay. We were fully integrated into the scene for the entire ten days. Waves are in Reo's blood, but so is a humble, welcoming nature. He could be the wave riding equivalent of 5-time freestyle world champion Aaron Hadlow, stealing the limelight in an arena that's been dominated by experience over nubile athleticism. And although he may not be raking in the many of financial benefits of the five time world champ, he's making enough to put himself through school and shares a lot of the same 'head screwed on right' qualities.
Jim Gaunt (Kiteworld Magazine Editor)
Reo has seen and taken part in the whole progression of the sport from two line kites, to board-offs and handle passes. It wasn't until he started focusing on waves and got a little older that Reo has actually started leading the charge harder than you would think anybody needs to in the last few years. Its hard to recall a session where Reo didn't swim in with his gear in a million pieces, not because he doesn't know what he's doing, but because he tried to hit a triple overhead section or pulled into a close out that was utterly impossible. When you grow up in Hawaii you either charge or get heckled, Reo Charges!
Sky Solbach (pro rider/North kiteboarding)
Solid riding on a solid foundation. The combination of old school experience and youth make Reo unique in kiting. Reo is one of the sport's younger pro waveriders, he has been kiting as long as almost anyone and his freestyle years give him a deep set of kite skills to draw from. Add to this an almost unhealthy love of big surf, and heavy situations backed by a lot of tow-surfing experience, and he is good to go at any spot, anywhere. The groundwork is in place for the next decade.
Jeff Pfeffer (photographer/journalist)
Reo absolutely kills it in the waves: so powerful, has the biggest turns and the kid charges! Some of the stuff that he's doing and some of the barrels that he pulls into are amazing!"

Ben Wilson (pro rider/Co-founder BWS)

"Reo is a true pro, the guy gets the job done. If a photo trip comes up, Reo is the first kiteboarder I think of to go with. He is very personable and he also has an incredible work ethic.
Jason Wolcott (Photographer)