Surf, kite, SUP, dive and sail your way through one of the most beautiful and untouched tropical paradises in the world – The Tuamotu Archipelago located in French Polynesia. After the success of the first trips in 2017 we will be expanding to a larger boat, a 50ft Catana crewed by the highly qualified and legendary crew of The Cabinha Quest and lengthening the trips from 7 day to 10days. There's simply too much fun to pack into a single week!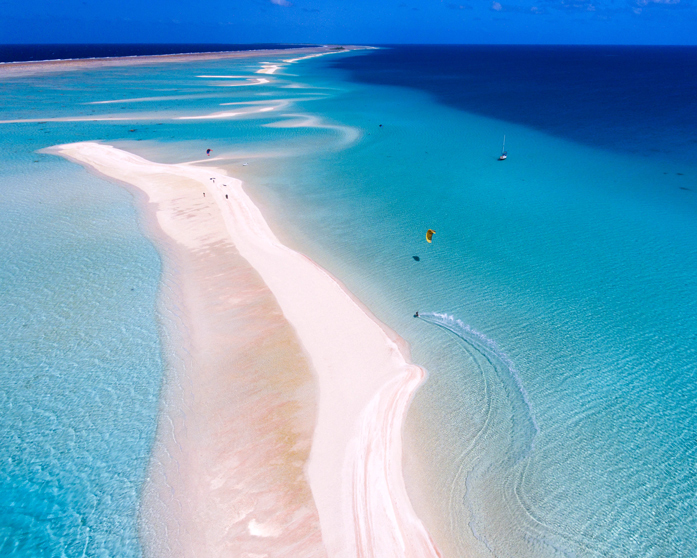 The 2018 Tuamotu Kiteboarding Adventure will offer three different unique trips that promise to be an adventure of a lifetime – Two in the remote Tuamotu archipelago and one in the Society islands.
Available Dates:
**JUST ADDED**

Trip #1 – July 22nd-31st – (10-days in the Societies) Raiatea – Tahaa and possibly Bora Bora – BOOK NOW!
Trip #2 – August 7th-16th 2018 – (10-days in the Tuamotus) Fakarava to Rangiroa via Apataki & Toau –

**FULL**

Trip #3 – August 20th-29th 2018 – (10-days in the Tuamotus) Rangiroa to Tikehau –

**FULL**
Trip #1 The leeward society islands, which include famous Bora-Bora are pretty crazy famous for good reason. Their close proximity to one another make up an ideal cruising ground, and each has the perfect mix of ingredients that has enchanted visitors since travel to this remote part of the world became possible. Each has high lush mountains surrounded by massive fringing reefs with navigable lagoons. Every June through September a wave of Humpback whales settles in here after their long trek from Antarctic waters to nurse their calves. You'll see them everywhere and might even get lucky with a very close swim. Let's not forget about the steady dose of trade winds that breeze through here this time of year. Want to see where you're going? Check out the Video from when the Cabrinha team went through his exact location.
Trip #2 starts on the atoll of Fakarava and finishes on Rangiroa. Fakarava is one of the largest circular reefs in the world and gets a few dozen tourists who come for the world-class diving a year- if that. On our way from Fakarava to Rangiroa we will be stopping off at the atolls of Toau and Apataki, both atolls offering their own unique experience.
Rangiroa is really the only island in the Tuamotus that gets any real tourists, being the second largest circular reef in the world- there's plenty of reason for this. But even with the other tourists there you won't even notice them from the decks of the Catamaran- they are all tucked away in their luxury bungalows on the one thin strip of land that actually rises a few feet above sea level. Poor sods. Two of the most famous diving passes are within minutes of the airport, where very special encounters with Pacific Manta Rays (the BIG ones!) and hammerhead sharks are common.
Trip #3 will be from Rangiroa to Tikehau. Nearby Tikehau is surrounded by massive pelagic fish. We had 4 lines out on our way into the pass and landed 3 gorgeous yellowfin.
Both of these trips are a superb, ideal, amazing itinerary- highly recommended!
Want to see what last years trips was like?
Watch the Video!
2017 Tuamotu Kiteboarding Adventure Gallery
"If you were looking for a place that defines radness for our sport, look no further than these remote atolls in the Tuamotus" – CEO/Previous Captain of Offshore Odyssey/Cabrinha Quest
 Getting There:
International flight to Papeete, Tahiti (PPT) on Air Tahiti Nui or Hawaiian Air, then domestic on Air Tahiti to/from Fakarava (FAV)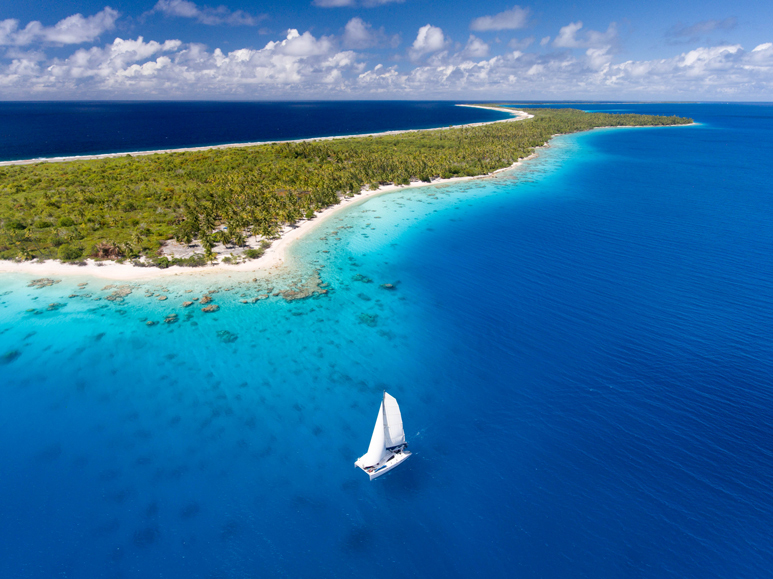 Pricing Per Cabin – Single or Double Occupancy (US$):

There are two types of cabins available – one large single bed (couples) and twin share.
Each cabin (sold per cabin) is $11,700 or $5850/person BOOK NOW!
Cabin selection is on first come, first serve basis.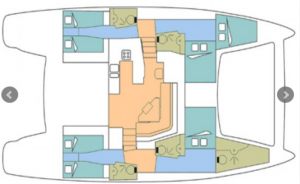 What's Included:
Daily Guided Tours from Reo and crew to the best location/activity of the day.
All provisioning for the trip – Food and (Not Including Alcohol)
All photography from the trip
On the water Coaching from Reo.
Transfers from local airport to ship's anchorage
Tender support whilst surfing or kiting
Fishing trips
Free diving and Snorkel Expeditions
Not included:
International and Domestic Airfare
Any excess baggage charges
Scuba diving via Top Dive
Premium wine and spirits. We suggest you buy a bottle or two at duty free.
Gratuities for Staff (suggestion of $200/person/per staff)
Communications
Satellite Telephone calls will be $2.50 a minute.
No wind activities: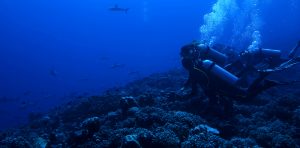 During peak season, the winds are extremely consistent, however down days can happen, but flat days can be just as rewarding and fun and honestly you don't get to fully enjoy everything the Tuamotus has to offer if you spend the whole time kiteboarding. The diving is the best in the world with 100 hundred foot visibility and flourishing underwater reef and fish, fishing is more known as "catching" and the scenery never gets old – You can be as busy or as relaxed as you want to be in the Tuamotus.
Meals:
Three (3) meals a day served buffet style. We take full advantage of living on a boat and fresh fish ("Ahi" – Yellowfin tuna, "Ono" – Wahoo and "Mahi Mahi" –Dorado) are frequently seen at meals.
Please notify us if you have any dietary requirements beforehand.
Tuamotu Adventure FAQs:
Do I need travel insurance?
HIGHLY RECOMMENDED! With only access to one or two small medical clinics in the Tuamotus and Tahiti being your closest point of any "real" medical care, we highly recommend travel insurance. You will need a plan that covers medical emergencies and transport, trip cancellation, travel changes, loss of property and luggage. We recommend a comprehensive cover to ensure you're protected.
Maximum number of guest per week?
6 (2 guest per Cabin)
Phones?
Satellite Telephone calls will be $2.50 a minute.
Internet?
Don't count on it! The Tuamotu Archipelago is rather remote group of atolls and internet can be hard to find and isn't always reliable even when you do find a "hotspot"
Air Temperature?
Temperatures will generally reach highs of around 29°C or 84°F. At night the average minimum temperature drops down to around 25°C, or 77°F. The average daily relative humidity is around 75%.
Water Temperature?
Ocean temperatures averages around 27°C, or 81°F
Do you need a wetsuit?
Not typically, but if you get cold easily we recommend bringing wetsuit top or a spring suit. Normally a 1-2mm top will keep you warm for the early morning surfs/kites and a spring suit will keep you warm for diving.
Strength of wind?
It can be any strength, but normally about 15-20knots. 8m – 12m kites depending on rider's weight.
Do I need kitesurfing experience?
No, but if you do want to kite, we require you to be able to confidently stay upwind. No Beginner lessons will be given.

Can you ride a twin tip?
Absolutely, Fakarava offers a variety of conditions and if you like riding a twin tip, bring it!
What are the waves like?
Fast and hollow, although there are mellower days we'd recommend being a capable surfer.
What should I pack?
Boardshorts, Bikinis, Beach Towels and Sunscreen! As well as anything else that you think you would like for a week on the beach. The evenings can get a little chilly on the trampoline, but a simple sweatshirt should keep you warm.
What kind of equipment will be supplied?
You will be required to bring your own equipment.
Can you ask for vegetarian meals when booking?
Yes, we can cater to a range of dietary restrictions, just ask.
Do I need booties?
It's a good idea if you want to surf or kite when it's shallow on the reef.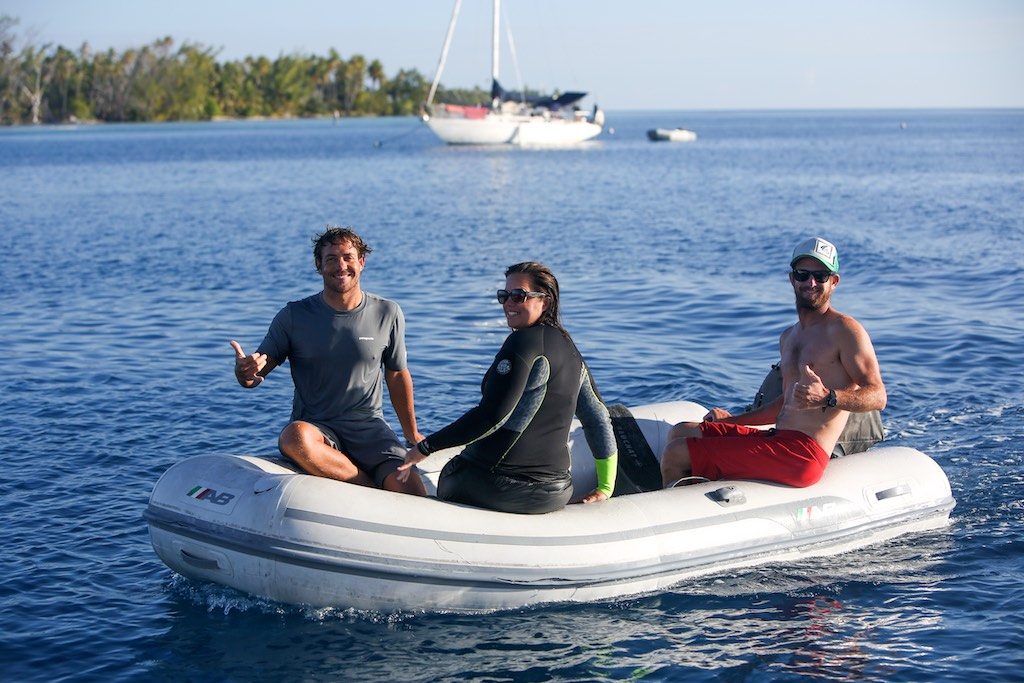 Terms and Conditions:
Conditions of Occupancy:
Cabins must not be used for any unlawful purpose. The Guest will be liable for payment of any charges incurred by any Guest together with all replacements and necessary costs for any damage or loss to the ship and its contents caused by any Guest. The Guest authorizes the manager to charge any credit card for any loss, damage or monetary contribution for which any Guest is liable under this document or otherwise neither accommodation provider, Reo, his staff or support crew is liable for any damage or loss of property, which a Guest may sustain while on the complex.
Booking Terms:
– Additional Requirements are on a 'request only' basis and are not guaranteed.
– We require the payment of a non-refundable/non-transferable deposit of 25% of total tariff to confirm a booking.
– Payment can be made via credit card, PayPal or bank transfer. Any transfer or Service fees will be added to the total price of booking.
– The balance payable 120 days prior to departure. No refund for early departures.
– Early check-in and late departure is available pending availability.
– Only the number of guests paid for can stay as part of the group.
Cancellation Policy:
– Cancellations should be made in writing via email to reo.stevens@gmail.com
– Cancellations including original deposit are non-transferable and non-refundable. However we do our best to fill spots and reimburse the cancelled guest the remaining amount over the original deposit less any bank charges.
– Cancellations closer to departure incur various penalties: 60+ Days Prior to Departure – 1st deposit non-refundable, non transferable / 31-60 Days Prior to Departure – 50% penalty (total cost of trip) / 00-30 Days Prior to Departure – 100% penalty (no refund)
We strongly recommend that you take out travel insurance to cover unforeseen circumstances including travel cancellation due to inclement weather, natural disaster and personal circumstances, as we do not accept any liability for any costs you may incur.
Sounds Amazing! I'm ready to BOOK THIS TRIP!