"The Island of Everything", "The Last Eden", – Whatever you want to call it, the Marshall Islands are a true waterman's paradise! Reo has partnered up with Martin Daly and the Indies Trader to bring you a kitesurfing adventure to what could quite possibly be the best kiting destination in the world!  – And because of its remoteness you won't have to share it with anyone outside of the resort!
Beran Island is about 45 Acres.  A typical atoll sand island, covered in coconut palms, with many substantial hard wood trees as well.  Beran is truly central to all the surf in the atoll, and we can see the two most consistent breaks from our new lodge.  Over the last 4 years, we have been building infrastructure on the island. We have put in two miles of roads, a concrete wharf, and our main building with our off grid power station, large workshop, and 8 really comfortable rooms for up to 16 guests. We are taking bookings for the 2016-17 winter season for accommodations on the island.
Currently we have the MV Indies Trader 2 a 45 ft fly bridge sport fisher/ day boat, a 23 foot Noosa Cat fast day boat, and 4 jet skis based at the island.
The normal routine is to range out from the island on day trips on one of the craft, depending on personal requirements. If it looks like we have a big swell that is going to last a few days, we may take one of the larger boats or both up to one of the further away passes and stay overnight or as long as the swell lasts.  There is surf and great kite boarding right at the island, the most consistent waves Amnesia and the Bowl are 4 Nautical Miles East and West of Beran ( 10-15 Minute boat ride from the wharf ).  Maybes – our most demanding and powerful wave is about 11 Miles to the break and Nirvana our most classic point setup is 12 Miles from the wharf.  We can do day trips to both these places and always do if there is swell. If there's no swell, long downwinders through the inside of the atoll will give you a unique view of the atoll's beauty that only kitesurfing can provide.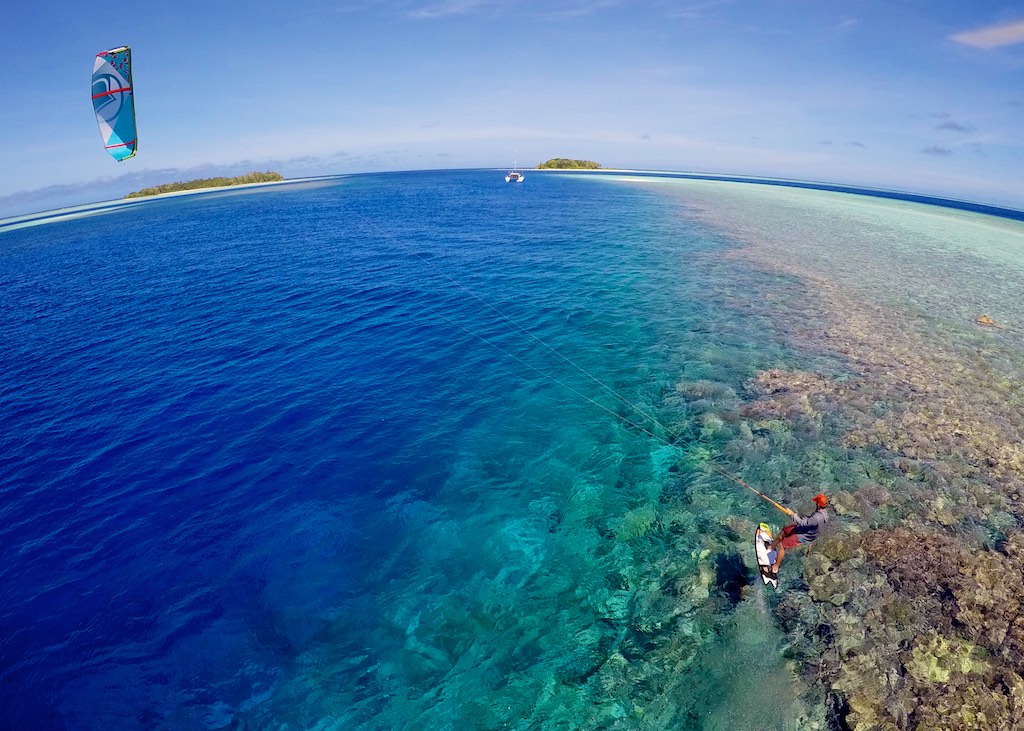 The trade winds blow from the last week in November till the end of March.  The wind blows East to North East (for the Rights) and a bit less rarely from the South East (for the lefts).  As a result the wind is pretty well always offshore or side offshore. The kitersurfers and wind surfers rate the Marshall's as possibly the best surfing location in the world.  During the season, average wind speed is usually 15-20kt range.
The surf in our atoll, is the best in the Marshall's.  In 2006, Martin spent 6 months going to every single atoll and reef pass in the Marshall Islands.  While we found breaks in other atolls, the waves around Beran are by far the best.
Most people try to make comparisons to Martin's greatest discovery, the Mentawai Islands.  The surf in the Marshall's gets as good as anything in the Mentawais on the better days.  We don't get the oily calm conditions as often (though it does happen), but the swell is comparable in consistency and size.  
Available dates for Marshall Islands Kitesurf Adventure:

Dates are ongoing from November 2016 through March 2017. Minimum stay is 6 nights – 7 days. Flights arrive Saturday and depart Friday. Three person minimum. Email Reo about organizing trip.
What's Included?
Daily Guided Tours from Reo and staff to the best location/activity of the day.
On the water Coaching from Reo.
All food and beverage including selected beer, wine and spirits.
Laundry
Transfers from local airport on the atoll to Beran Island
Daily transfers to the surf, Jet ski and or tender support whilst surfing
Use of resort equipment, short boards, long boards, Sups
Fishing trips
Diving and snorkeling trips, air fills, weights. Snorkeling gear, scuba equipment for qualified divers.
Not included:
International airfares to Majuro, Marshall Islands
Air Marshall Islands flight from Majuro to the Atoll (US$320 return)
Any excess baggage charges
Premium wine and spirits. We will have premium wines, champagne and spirits available for purchase by the bottle. We suggest you buy a bottle or two at duty free also.
Communications
Satellite Telephone calls will be $2.50 a minute. We suggest you rent an Iridium handphone for a better rate if you plan to do a lot of calling.
Accommodations:
Beran Resort has 8 bedrooms and accommodation for 16 adults as follows:
4 x Upstairs rooms: all airconditioned, king size beds, ensuite bathrooms.
4 x Ground floor rooms: these rooms have a loft in them with a queen size bed in the loft.  In the lower living room area there is a single day bed that can be used as a bed if the room is a twin share. There are two powder rooms and two shower rooms to share between the 4 rooms.  All 4 rooms are air conditioned and have a small drinks fridge.
Our TVs are stocked with hundreds of movies and the latest TV shows to watch at night or during off times.  Feel free to bring DVD's or movies on usb drives to watch with your group, and iPods or iPhones to hook up to our stereos.
Getting there:
You will fly to Honolulu and stay one night and leave to Majuro in the morning. From AUS – You have some options… but we reccomend flying to Hawaii then Majuro
For US flights, you will fly to Honolulu, and on to Majuro (MAJ), Marshall Islands. United (formerly Continental) is the only airline to get you from Honolulu to Majuro. During the Winter, flights can be extremely cheap to Hawaii, the flight from Honolulu to Majuro can be booked with miles as well.
You will stay in Honolulu for the night, and most flights leave early in the morning, arriving mid morning in Majuro the next day (you cross the dateline). You will get your entry visa,  collect your bags and our staff will meet you at the Majuro airport.
Once in Majuro, our staff will meet you and coordinate the next leg of your trip. As of early 2016, Indies Trader will be flying a private plane from Majuro to the outer islands every Friday.  This will generally mean an overnight in Majuro Thur – Fri, at Hotel Robert Reimers.  We will coordinate booking and transport for your overnight.  If there is availability on Beran on Thur – Fri, you may have the option to book one more night at Beran and fly out Thursday afternoon.
Remember that you cross the dateline both ways from Hawaii to Majuro so you gain a day. The HNL – MAJ flight leaves Mon, Wed, Fri, so generally you will have to leave the day before that (Sun, Tue, Thursday) from LAX or SFO to make the connection.
No wind activities:
During peak season, the surf and wind are extremely consistent, however down days can happen, but flat days can be just as rewarding and fun.  The diving is the best in the world with 200 hundred foot visibility and flourishing underwater reef and fish.  Downwinders are arranged, islands explored, and deep sea fishing.
Meals:
We take pride in the high quality ingredients, preparation and presentation of our food for every guest of every trip.  Our chefs are traditionally trained, and bring with them years of experience and diversity.  Locally grown vegetables and fruits, high quality meat, freshly caught fish & imported high quality specialty ingredients are all included in our kitchen and stocked to the brim for every visit.  Specialty diets are all accommodated to the best of our ability, given the remoteness of our location – vegetarian, vegan, low carb, low fat, paleo, etc – Please send us a note prior to your trip and we will add a note on the trip notes, notifying the chef ahead of time &  stocking accordingly with extra specialty foods if necessary. Please make sure to give us as much advance notice of your dietary requirements as sometimes we need allow additional time for preordering.
Pricing:
Room Rate per week Arrive Sat depart Friday
Ground Floor Room- shared bathroom with one other room 6 nights 7days
Total for Twin Share …………………………………………… $3,970 per head
Total for single occupancy …………………………………… $5,820
First Floor Room with en-suite 6 nights 7 days
Total for single occupancy …………………………………… $5,820
Total for couple ………………………………………………….. $7,540 ($3,770 per head for a couple)
Exclusive Whole Island Booking – weekly booking ………………………… $59,500.00
Just you and your friends, decide how many others you want to surf and kite with!
Up to 12 singles or 16 including partners
2 week 13 night trips are 2x the weekly rate, you get an extra night n/c
To guarantee great surf we recommend a 2 week stay to maximize swell potential.
FAQs:
Are there sharks in the Marshalls?
Yes, but we have never seen anything more than small reef sharks.  Martin Daly & Indies trader were instrumental in making the Marshall Islands the largest shark sanctuary on Earth.  Sharks found here are mainly black and white tip reef sharks and get no bigger than 5 feet long.  These are non-aggressive and are wonderful to go diving with.
Over the past decade, we have not encountered a single aggressive species such as a tiger or white shark.
Do I need a VISA?
If you are US, EU, Canada, Australia, NZ, you DO NOT need a visa prior to arrival.  You will buy an entry visa upon landing.
Many other countries such as Russia, Brazil etc DO NEED a visa prior to arrival.
Do I need to bring my SCUBA license / cert to dive?
Please be trained and knowledgable about SCUBA diving if you would like to go diving. We do not offer lessons and expect basic certification. Please check with your PADI, NAUI, SSI website to make sure your license or cert is current.
Dive guides are available, but as with any underwater diving situation, we expect any diver to feel confident and safe underwater by themselves, and able to identify and react properly in an emergency situation.
I am a US Citizen, do I need a passport, or just a driver's license.
You NEED A PASSPORT that is current and valid.  Please do not show up to Majuro with a driver's license. You will not be allowed entry.
Though the Marshall Islands uses the USD currency and was once part of the USA, it gained independence in 1986 and is its own separate country.  Please respect the country and its people and be adequately educated and prepared.
What currency is used in the Marshall Islands?
USD – Please have bills changed to USD ready for tipping etc. Money can be changed at airports for a fee, but the best bet is using an ATM in Honolulu or the Marshall Islands.  This is the lowest transaction fee.
Is the surf super gnarly?
We have a variety of waves ranging from longboard type beginner waves to insane driving barrels.  It all depends on the size, angle, and period of the swell at any given time. This comes down to the expert knowledge of our captains and surf guides who will know exactly where to go based off the skill level and experience of the group – from family group lessons to professional surf trips.
 You will not have a single day you are bored!
Terms and Conditions:
Conditions of Occupancy:
Rooms must not be used for any unlawful purpose
The Guest will be liable for payment of any charges incurred by any Guest together with all replacements and necessary costs for any damage or loss to the apartment and its contents caused by any Guest
The Guest authorizes the manager to charge any credit card for any loss, damage or monetary contribution for which any Guest is liable under this document or otherwise
Neither accommodation provider, Reo, his staff or support crew is liable for any damage or loss of property, which a Guest may sustain while on the complex.
Booking Terms:
– Additional Requirements are on a 'request only' basis and are not guaranteed.
– We require the payment of a non-refundable deposit of 25% of total tariff to confirm a booking.
– Payment can be made by PayPal or bank transfer.
– The balance payable 120 days prior to departure. No refund for early departures.
– Early check-in and late departure is available pending availability.
– Only the number of guests paid for can stay as part of the group.
Cancellation Policy:
– Cancellations should be made in writing via email to reo.stevens@gmail.com
– Cancellations including original deposit are non-transferable and non-refundable. However we do our best to fill spots and reimburse the cancelled guest the full amount less any bank charges.
– Cancellations closer to departure incur various penalties: 60+ Days Prior to Departure – 1st deposit non-refundable, non transferable / 31-60 Days Prior to Departure – 50% penalty (total cost of trip) / 00-30 Days Prior to Departure – 100% penalty (no refund)
We strongly recommend that you take out travel insurance to cover unforeseen circumstances including travel cancellation due to inclement weather, natural disaster and personal circumstances, as we do not accept any liability for any costs you may incur.
** This Adventure Clinic has a minimum requirement of 3 to guarantee trip.**